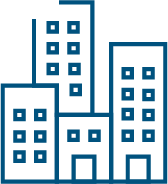 Real estate
Real estate disputes
---
INDUSTRY KNOWLEDGE IN FOCUS
Property disputes are best resolved with the assistance of lawyers who have broad litigation experience, know the relevant fields of law and have an in-debth knowledge of the property industry.
Each year, Thommessen's commercial property team achieves top ratings in both Norwegian and international legal rankings. In 2018, we assisted on more than a hundred property transactions. In addition to our large transaction volume, Thommessen's comprehensive property practice encompasses, nter alia, property leases, property development, as well as planning and zoning law issues. In the event of disputes, a number of our team members have extensive experience in resolving these through negotiation and litigation.
Solution-oriented
We have an intimate knowledge of the property industry gained through advising a number of the key industry players on an ongoing basis. We know market practice and we are adept at finding solutions. Property disputes can be resource-intensive, and we start out from the premise that a solution should be found outside the courts. However, we also know when to say that enough is enough and bring the dispute before the courts.
Our property dispute resolution practice compromise, inter alia, disputes relating to transactions, property leases, property development, land lease, expropriation, prescriptive easement, as well as planning and zoning law.
Several of our team members have also served as arbitrators in property disputes.
BENCHMARK CASES
---
Thommessen assisted the lessor (KLP Eiendom) in a dispute with the lessee (Schibsted) regarding interpretation of the VG-Huset media building leases. Schibsted claimed damages of approximately NOK 110 million relating to ventilation and soundproofing issues, etc. KLP Eiendom prevailed in the action and was awarded full legal costs.
Thommessen assisted the lessee (News AS/Rick's Café) in a dispute with the lessor regarding the required state of the premises. Our client was awarded damages in the amount of NOK 47.5 million, and was also awarded legal costs.
Minde Næringspark, Bergen
Construction of a commercial building triggered a dispute regarding breach of contract and violation of public law provisions on water penetration and inadequate protection against the forces of nature. Thommessen prevailed, on behalf of the purchaser, against the seller and the property developer in a direct claim action, with claims for a comprehensive overhaul of the buildings and the land. The purchaser was also awarded damages and legal costs.