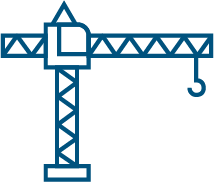 Construction
Construction and other production contract disputes
---
IN-DEPTH UNDERSTANDING OF THE PROJECT IS ESSENTIAL
Onshore and offshore construction projects are characterised by the contractor or supplier undertaking to deliver a custom-made product. The projects are often technically complex, last for a long time and come with a high price tag. This means that there will frequently arise disputes during project execution or in relation to final settlement.
Construction disputes are primarily about the underlying project. Although claim types and issues such as unforeseen obstacles and delayed progress are encountered time and again, no two projects are the same. The claims are often based on complex and multidimensional facts that are distinctive to each project. In order to provide the best possible assistance in such disputes, the lawyers need in-depth industry knowledge and extensive construction dispute experience, while at the same time taking a keen interest in the specific project itself.
Efficient and effective teams
Our lawyers have construction project and construction dispute experience from all industries in which such disputes occur, including onshore and offshore construction, energy and infrastructure. We know that it is essential for us to understand each individual project. We listen intently to the experts – i.e. our client's project team – and have the approach and project management skills required to facilitate effective imparting of knowledge to the lawyers. Our lawyers are driven by a desire to learn more about our clients' business.
Thommessen has extensive and comprehensive experience in putting together and working in effective and efficient legal teams whose client collaboration approach is tailored to each individual dispute. The team composition and approach will vary considerably from one construction dispute to the next. In some cases, the client's project team will be deeply immersed in new projects, thus requiring a flexible dispute resolution approach tailored to the new projects in the pipeline. In other cases, our clients have allocated key resources for full-time availability in the preparatory phase and during the court hearing itself. We have extensive experience with different approaches to preparing for court hearings, and know that the most appropriate approach will vary from one dispute to the next.
Digital tools
Disputes tend to tie down the client's own time and resources in what is already a hectic existence. It is therefore of decisive importance to be able to predict and plan when such efforts are required. We therefore use simple digital project management and document processing tools to improve workflow efficiency and ensure involvement, transparency and predictability for clients. We thereby ensure that the client does at all times have an overview of the case and its documents, understands the timeline of the case, and knows what needs to be done and when it needs to be done.
Thommessen's leading team of construction lawyers have adhered to these principles in a large number of construction disputes, on both the developer side and the contractor side.
BENCHMARK CASES
---
Thommessen has assisted Lyse Produksjon AS in relation to a final settlement dispute following the construction of the Lysebotn II power plant.
Thommessen has assisted Bybanen Utbygging in relation to all disputes associated with the development of Bybanen light rail in Bergen.
Thommessen is assisting Westcon Yards AS in a final settlement dispute after conversion of the Safe Scandinavia rig from accommodation rig to tender support vessel.